Tier 2 - Standard Laser Checks, competitively priced program offering
up to 15 security features
, with four pantograph options. Comes in a variety of perforation positions.
3-Day Turnaround!
contact salesperson about this product
Additional Details
3-Day Turnaround!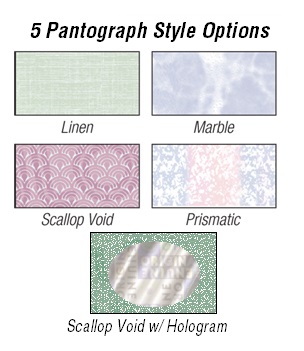 Quantities: Start at 250 (one part)
Sizes: 8 ½˝ x 11˝ or 8 ½˝ x 7˝
Pantograph Options**: Linen, Marble, Scallop Void, Prismatic, Scallop Void w/ Hologram
Imprint: Black ink only
Border: Warning band with padlock icon
Perforation Positions: 3 ½˝ & 7˝ (top & center checks) 4˝ & 7 ½˝ (bottom checks) 3 ½˝, 7, 10 ½˝
(3-to-a-page, Linen, Marble, & Scallop Void) 3 ½ '' , 7' & 10 ½ '' from the top (top, center & bottom)
Parts: Available in up to 3 parts (white, canary, pink)
Paper: 1st Part: 24# Glatfelter Defensa Basic Inkjet
Packaging: Polywrap protected
Software Compatible Cross Reference Tool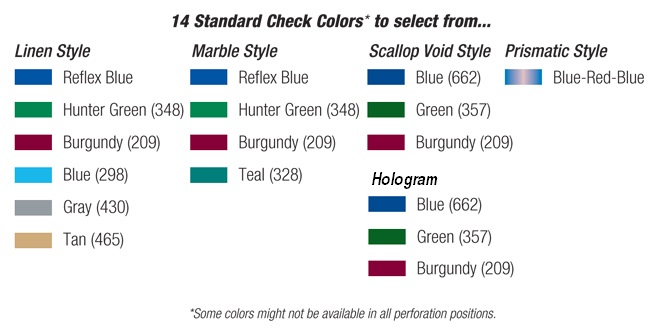 **One of the most popular security features, the hidden message VOID technology, is also the most likely to fail. Manufacturers of the VOID can't keep up with the ever changing copier and scanner technology in today's world. That's why Wilmer layers on the security in our check and prescription pad stock to eliminate the ease of copying our products and leaving your customer at risk for counterfeiting. One of the best security features is the thermochromic ink that you can find on many of our stock products. This fades with heat and is impossible to copy. For more information regarding our security features, contact your local sales rep. For best results, the recommended colors are PMS 281 Blue, PMS 249 Plum, PMS357 Green or PMS 175 Brown. The best pantographs to use are the 933 Camo or the 008 Scallop Voids.